Join this year's Summer Reading Program! Go "Beyond the Beaten Path" with the Twin Falls Public Library as we celebrate nature, the wild, and more! Everyone from infants to adults are encouraged to join. All summer, we have a variety of programs, reading challenges, activities and more. Complete the challenges and fill out your reading logs for the chance to win prizes, badges, and bragging rights.
We're getting some help from Animal Expert Corbin Maxey to kick off the program! Corbin is a nationally recognized animal expert and has been regularly featured on programs like Late Night with Seth Meyers, The Today Show, The Martha Stewart Show, and more! Join us in City Park as Corbin introduces you to more than 15 animals, including his 14-foot albino Burmese Python! Stop by for the show, pick up reading logs for Summer Reading, and get ready to "Read Beyond the Beaten Path!"
Pre-K & Elementary Summer Reading Logs
Beginning June 6th, Pre-K & Elementary Kids can grab their reading logs from the Youth Services Desk, or use the ReaderZone App with code: 77ffb. If they read at least 32 times by the end of the Summer Reading Program (that's 4 days a week for 8 weeks) and turn in the Reading Log by July 30th, they will win a free book, a treat from a local business, and a State Parks pass!
Pre-K Summer Reading Activities
Naturbrary
Pre-K kids and babies should check out Naturbrary! This is a nature-based program for little ones and their caregivers. Every Wednesday beginning June 8th, we'll meet at the Twin Falls City Park for fun nature activities! We'll have Storywalks, make mud pies, do art projects, learn about plant life and more!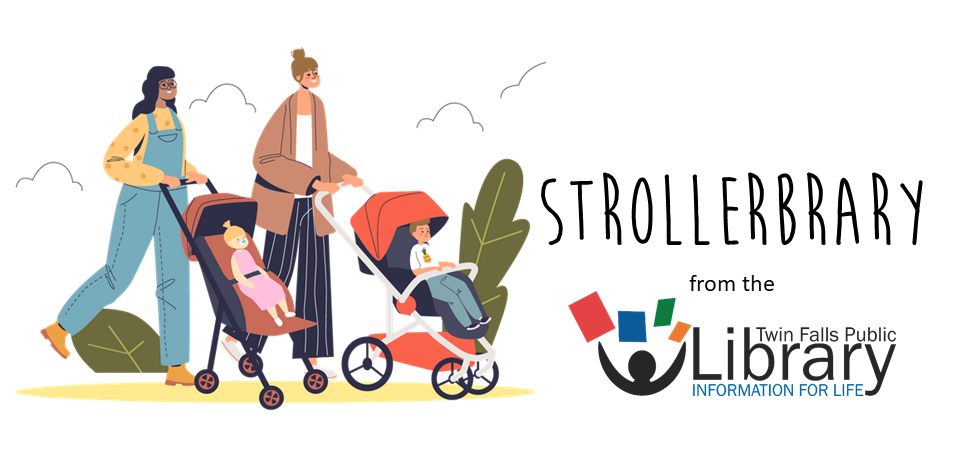 Strollerbrary
Strollerbrary is a weekly walking group for caregivers of young children. We'll meet every Friday at 10:00 am at a different walking path in Twin Falls, learn a new early literacy concept, and go for a walk! This program is a great way to meet friends, chat with a librarian about any early literacy questions you have, or just enjoy some fresh air with your child.
Elementary Summer Reading Activities
From family fort night, to an obstacle course, to a chance to touch a cougar skull, we're going to have so much fun Reading Beyond the Beaten Path with your elementary-aged kids this year! Check out our list of programs, or visit our calendar for more information!
June 14th, 5-8 PM
Family Camp
July 6th, 5-7 PM
Elementary Adventure Camp
June 23rd, 10:30 AM
Animal Camp With Fish & Game
July 12th, 10 AM - 12 PM
Art Camp
June 30th, 10 AM - 12 PM
Sports Camp
July 19th, 5-7 PM
Space Camp
Teen Reading Logs:
Starting June 6th, teens can pick up a reading log from the Youth Services Desk. Complete 8 out of 10 activities on the log and turn it in by July 30th to win a free book and get entered to win drawings for other prizes too! Pick up a paper log, or track your progress on the ReaderZone App with code: ffa0f.
Teen Summer Reading Activities
Teens, are you looking for something fun to do this summer? Check out Teen Summer Reading! Learn wilderness survival, play games, make your own journals, and more! Check out our calendar for more information!
June 10th, 2 PM
Nature Sun Prints
July 7th, 11 AM
Create a Journal
June 21st, 11 AM
Teen Wilderness Safety & Survival
July 21st, 11 AM
Summer Camp Games
Adult Reading Logs
This year, we're challenging adults to "Read Beyond the Beaten Path!" Adults can complete challenges or attend library programs to earn badges! Earn your Nature, Arts & Crafts, Sports, Lean, Play, Camping, and Food Badges to enter for prize drawings, complete all 7 to earn a bonus badge, and another entry to win the grand prize! Pick up an Adult Summer Reading Log from the Reference Desk to track your progress, or join the challenge on the ReaderZone App with code: b9e34.
Adult Summer Reading Activities
Attend events to earn badges! Join us for outdoor games, learn about nature in Idaho, enjoy some stories around a campfire, and more! Find more details on all our programs on our calendar!
June 7th, 6:30 PM
Adult Recess
June 29th RESCHEDULED: July 13th, 5:30 PM
Fly Fishing 101 w/ Casting for Recovery
June 13th & July 11th, 6 PM
Classic Movie Night
June 30th, 6 PM
Idaho Wildlife w/ Idaho Fish & Game
June 15th & July 20th, 6 PM
Game Night
July 7th, 5:30 PM
InstaPot Class w/ the U of I Extension
June 16th & July 14, 5:30 PM
Dungeons & Dragons
July 9th, 11 AM
Camping 101 w/ National Park Service
June 18th, 10:30 AM
Crafter-Day: Create Your Own Telescope
July 15th, 9 PM
Campfire Stories
June 22nd & July 27th, 6:30 PM
Limited Edition Book Club
July 19th, 3 PM
Tea Time: Learn to Brew US Grown Tea
June 23rd, 10:30 AM
Homes of Twin Falls History Walk
July 23rd, 11 AM
Native Flower Floral Arranging w/ Fox Floral
Celebrate with us on Harrison St between the Library & City Park! Join us and several special guests for crafts, food, games, music, dancing & more to close our Summer Reading.